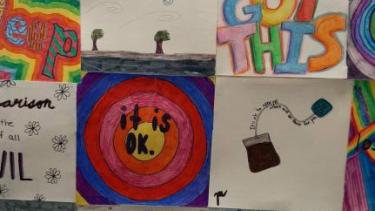 Principal's Blog November 2022
November 25th 2022
This month at JVH and Jewett, there have been a number of events that have highlighted the interconnected nature of our schools and communities.  For both schools, there are a number of relationships and events that are extremely helpful to their functioning, and that strengthen the connections in a way that help them thrive.  School connections is one of our 3 main goals this year; for us that means connections within the school, and with the broader community
The first event that comes to mind is our annual Remembrance Day ceremony, which happened this year at JVH on November 10th in the Lighthouse.  We were happy to see a number of guests from the community were able to join us, and received many positive comments about how well the students attended to the speakers, how they were respectful, and overall how impressed they were with the ceremony itself.  For us at the school, we weren't sure how it would go; due to COVID this was the first school-wide assembly we'd had in over 2 years, which meant the K and Grade 1 students had never been at an assembly.  With our student MCs and presentations from classes and students, we were able to hold their attention, build a reverent atmosphere, and host an event which was respectful and honorable.  Mr. Dunnett, our guest speaker, marveled at how well the school community came together to host such a remarkable event. 
Likewise at Jewett, Hannah and Cheyenne marked the day by talking about peace, and the effect that war has had on the animals and the ecosystems. This key theme of ecological understanding and interconnectedness has been a wonderful focus for the students, and an enhancement of their understanding of the web of life we are all part of.
Secondly, we are very thrilled to see a re-emergence of strong connections with community volunteers to assist us with our Literacy goal.  Upwards of 30 volunteers have been part of our orientation and answered the call to assist us, mostly through the CBAL 1:1 reading program.  Three days per week adult volunteers come to read with students, under the guidance of their trainer and mentor Barb Szuta who manages the scheduling of volunteers.  These supplemental reading programs are extremely helpful to what teachers are already doing, and are another source of important connections between the school and the broader community.  With talk of re-instating the Come Read With Me program in the new year, we are even more hopeful that these connections can deepen.
And lastly, there are also opportunities to deepen connections through events such as the Metis Awareness month, an instance where we've identified great opportunities to involve elders, knowledge keepers, and community stakeholders.  We are all learners in these events, and through consultation and cooperation we hope to create an intentionality and a level of inclusivity that provides the safety and security for all our learners to thrive and reach their highest potential. 
I hope you are all well, and that the lead up to the festive season is a good one.  Don't forget our upcoming production of the Wizard of Oz Dec 12-14 , tickets will be available at the office and at SunnySide Naturals very shortly