Blog
May 29, 2023
Superintendent's Report - June 2023
Image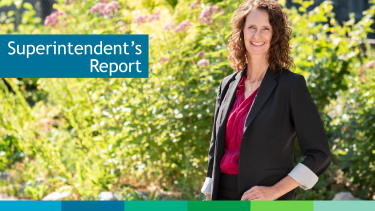 Another school year is coming to completion - June is one of the most exciting months of the year for everyone in SD8.
In June, we see students showcase their efforts and accomplishments throughout the school year - in capstone projects, in school theatre productions, in school-wide projects to protect the oceans or mark the Seven Sacred Teachings or in outdoor sports during and after school, including in the annual wuqanqankimik run/walk/wheel for Reconciliation.
This is also the month when graduation ceremonies take place across our district and students, staff and families can mark the incredible milestone of seeing Grade 12 students completing their high school experience cross the stage and accept their diploma, and celebrate the relationships, learnings and experiences of high school and the exciting future that is open to them.
Every story in this report speaks to a child' student's educational journey, whether that student is in a K/1 class learning about sea creatures or in their last year of high school presenting a professional multi-media production to an entire community.
Thank you to each student, each staff member and each family for being part of the 2022-2023 school year and for playing a vital role in every student's educational journey.
Have a great summer and see you in September.
Trish